Top Loading Melting Holding Furnace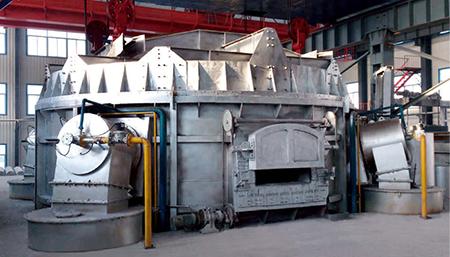 Application
Top loading melting holding furnace mainly used in smelting of aluminum alloy or heat preservation of molten aluminum. It is designed specialize for customers who use large solid raw materials.
Description
Top loading melting holding furnace means the furnace body is round in shape and non-movable. The furnace top can be opened, mainly consists of steel type external structure, refractory lining, furnace door, furnace door enhanced clamping mechanism and combustion system. The top loading melting holding furnace can be equipped with electromagnetic stirrer, molten aluminum pump and other auxiliary equipment. This model of furnace has four combustion fuel for selection, which are natural gas, LPG, heavy oil and diesel. The burner of this combustion system implements regenerative burner system which emits 90% and above of the waste gas after heat exchange through the regenerative bed. The remaining waste gas is emitted directly via the conventional exhaust channel and it is energy saving.
Parameters
Production: 5 tons- 60 tons
Furnace door type: top loading
Furnace type: open
Melting rate: 4-8 tons of aluminum per hour
Air pressure: 65-100kPa
Temperature accuracy: ±5℃
Fuel consumption: 52meter cube/ tons*aluminum
Highest working temperature: 1050℃
Highest control temperature: 1100℃
Material
External body: Q235 steel external shell
Internal body: refractory bricks, high alumina brick
Internal casting: non- adhesive aluminum castable or high strength low cement castable, etc.
Details
Melting furnace brick liner
Bricklaying with strong refractory materials which is applicable in any furnace type and any alloy smelting.
Easy and convenient for maintenance, low maintenance cost. More suitable for economical furnace type. The economical furnace has smaller tonnage. For example, aluminum melting furnace with volume 10 tons and below is suitable with brick liner.
Casting lining
The better the mixing of the refractory lining, the longer the lifespan of the bricklaying structure.
Using non-adhesive aluminum castable or strong strength cement castable. As such, the furnace has excellent sealing property and therefore the overall heat preservation of the furnace is guaranteed. Heat energy lost is minimized.
Features
Top loading, convenient and fast. It is designed specialize for customers who use large solid raw materials.
Furnace door closed by its own weight and thus resulting excellent sealing property. Heat lost is minimized and this helps to save up the production cost.
Multiple round shape furnaces share the same top loading device which improves the working efficiency and reduces the energy consumption.
Implement regenerative burner system, high efficiency and cost saving.
Furnace adopts PLC fully automatic control and this ensures the safety of the workers.